FAYE MACCALMAN: WHIRL AND UNFURL IN MONTRÉAL
CODDIWOMPLE
SECRET CORNERS
Tales on favourite spots by our network of femxle musicians
FAYE MACCALMAN
WHIRL AND UNFURL IN MONTRÉAL
When I arrived in Montréal it felt electrifying and terrifying, a great unknown. I had never lived in such a big city, and I never thought it would be possible for me, someone from Northern England, to have an adventure like this; studying this far abroad felt reserved for people who had a better cash flow than me. I ran at life with zero thoughts or planning so I could avoid the rush of self doubt that often accompanied thinking. I didn't pack socks or worry about missing anyone. I didn't know where I would live, I was just excited to be there.

The city of Montréal is beautiful. Art was everywhere, there was no definitive visual 'style' but instead it changed from building to building; French European architecture could be placed right next to a futuristic high rise, one street lined with plants and flowers could lead on to a street full of concrete. It was almost as if art had found a way to weave itself into the everyday life of things, as if it was breathing with the rest of us. I was completely anonymous, the city didn't know me and I didn't know the city.
I wanted to make the most of my year and dedicate all the time I had to creativity, listening and practice; I had only just started improvising a year before and it was the first time I had felt at home in music making. I was told there were loads of improvisers to play with in Montréal, but every time I tried to find a venue I would find myself wandering lost down the wrong street in the dark and heading back home. I wondered if it was going to be like this the whole year, and maybe I had been naive to think otherwise. It wasn't just the geography that I felt lost in. I felt like I had so much to learn if I wanted to be a successful person. All the fears I had so far avoided were now right in front of me. I thought maybe I needed to 'choose' one identity for myself; one that made perfect sense, ideally with an instruction manual to avoid any further confusion.
This overwhelmed me; how do you 'find' an identity, when we're always changing?
I eventually found musicians who were friends of friends, along with gigs and spaces to go to. I was in awe of venues like Casa Del Popolo (pictured above) and even more so the tucked away places like Casa Obscura, a loft space, with the history and art filling the walls and air, and the innovative musicians who were a part of all this and more. But I built up the courage to talk to these musicians and set up jam sessions. I said yes to every jam that came my way outside and inside university regardless of genre, from Turkish-inspired experimental music to free improvising with vital members of the city's avant-scene like trumpeter and organiser Ellwood Epps. Over time I was playing a gig every week, and for each one the music was improvised and spontaneous. One night I would be playing in a living room, surrounded by the sound of horns and strings freewheeling through melodies, and another day I would be playing in a DIY venue with thunderous free jazz groups. One of my first ever shows in Montreal was on 'Nuit Blanche' meaning 'White Night', an art/music festival where events happen all night long and museums stay open. I've always loved being in places where the city is awake through the night, and to see my name on a poster for the first time on this night where the usual order of day to night is flipped around was something special.
Looking back, this was the first time I was able play music for a year without the same worries and fears that money and personal safety had caused me beforehand; I was sustained through my student grants, my rent was cheap and I have a strong memory of feeling safe late at night on the streets, which is something I had never experienced before as a young woman. This isn't to say that the city is crime-free, and it is important to say as a white woman I had safety privileges. I had thought freedom was something tangible that I could see or do, but one of the most freeing experiences I had was playing shows and afterwards walking down the street without fear.

Being given these opportunities to play and share taught me the value of playing with other people and how there is so much more to music than notes and sounds. It's like a conversation, but one that comes from the core of you where all the indescribable feelings are, and together we communicate these things through sound. I felt like I had been welcomed as part of a musical community that was nurturing, inspiring and filling me with wonder.

If I had found that one perfect, fixed identity, I might not have had these experiences. The musicians I was inspired by weren't following any kind of blueprint in their lives or their music; the same social timeline I had started to feel the pressure of in the UK felt non-existent here. The ever changing city, the explorations of its musicians and the surprises that jumping in the deep end created helped me feel maybe I didn't have a blueprint to follow either, and that that would be okay. I will always be grateful to the musicians, friends, venues and spaces in Montreal for helping me learn how unimportant it is to be able to categorise or define who we are and what music we make in neat boxes, and how fun it is to follow a sound or a feeling of your own in all of its glorious chaos.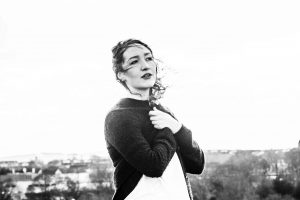 Faye MacCalman is a composer, performer and improviser on saxophone, clarinet and voice based in Newcastle upon Tyne, UK. Faye makes genre-fusing music drawing on jazz, folk-blues, rock and minimalism to name a few, inspired by emotional honesty and hopeful mysteries. Faye MacCalman is bandleader of award winning jazz-art-rock band 'Archipelago' and creates music as a soloist and collaborator.
Faye is currently making new audiovisual work for a Jerwood Arts/Cheltenham Jazz Festival Fellowship combining anonymous mental illness experiences with live performance, projection and sound art. in 2021 Faye created 'Redraw The Circles', a collage of voices from interviewed Northern artists, samples and woodwinds exploring social class and inequality in access to music, commissioned by New Creatives and supported by BBC Arts.