GIULIA RAE: POLARVILLE – DITCHING SCHOOL
CODDIWOMPLE
SECRET CORNERS
Tales on favourite spots by our network of fem人le musicians
GIULIA RAE
POLARVILLE – DITCHING SCHOOL
Polarville is a record and book shop situated in the historic centre of L'Aquila (IT) and founded by Giuliano Cervelli in 2004. Before the earthquake of 2009 it used to be called Caffé Polar; I used to often go there between 2007 and 2009. Sometimes I was ditching school with some friends, and we would go there in the morning to drink hot chocolate and listen to music. There was always good music – from my memories of that time especially indie rock (not mainstream), American songwriting and jazz. Caffè Polar had two rooms – one for the café and one for the books and records. It was hosting small events as well, but I was too young to remember that clearly.
My first encounter with Caffè Polar was in 2007 when I was 12. For Christmas, a family friend gave me the CD of Amy Winehouse's "Back to Black". At the time I was into other fields of music, so I went there asking to change it. My references to Giuliano were The White Stripes and The Raconteurs, I still remember his surprised face. His suggestion was "Baby 81" by Black Rebel Motorcycle Club. I was listening to that CD on and on.
Then the earthquake hit the city – it was 2009 – and the building, like many others, got seriously damaged. In 2010 Luna Stefani and Giuliano opened the shop in a temporary place outside of the city centre: it was that phase when everything was re-located in the periphery of the city, a ring of cars and shopping malls. In 2014 they finally came back to the city centre, opening Polarville: the same shop but without the cafè, being one of the first places to open there after the earthquake. At the time, that area was empty and most of the buildings were half-destroyed. But, despite the surroundings, good dynamics started to flourish again around the shop.

Here is a chat I had with Giuliano and a few questions I asked him.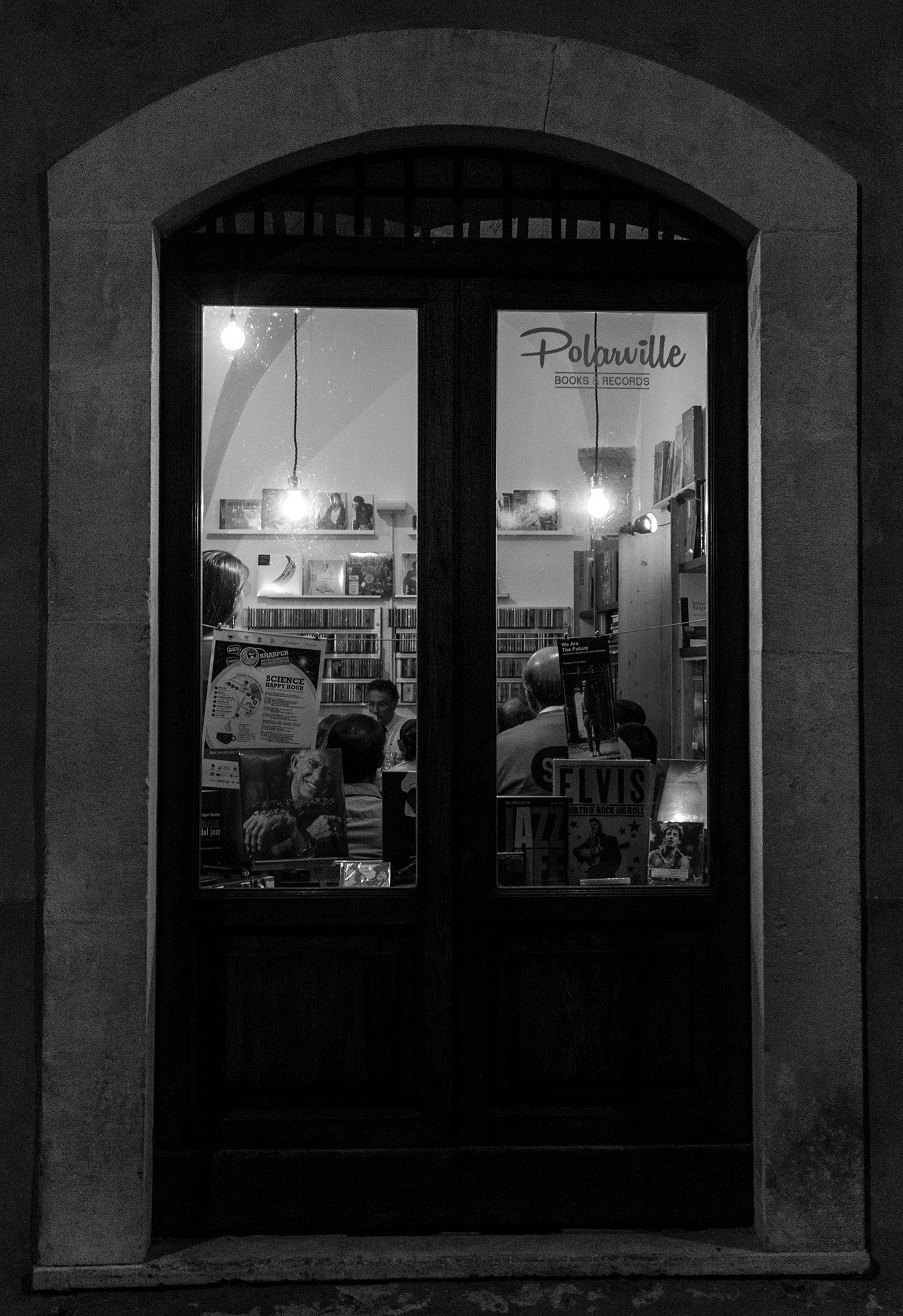 Q: What (or who) inspired you to open Caffè Polar in 2004?
A: I got inspired by the desire to create a space for us. At the time L'Aquila was a culturally lively city, with many students. It was vibrating with initiatives, theatres, cinemas, concert halls. Despite that, there wasn't yet a place where to find good records and books. If you wanted to do that, you had to go to Rome, as it was just the beginning of the internet era. The only bookshops in the city were offering mainstream material, and our desire was to create an alternative. We wanted a place which could be crossed by different cultural entities, entitities which were already existing in the city, without really communicating with each other. So in 2004, we opened Caffé Polar.
We have been one of the first places in Italy to propose this formula: a cafè with a shop for books and records. Against any expectations, it worked well, as it was just outside of the University area. There was an evident need for such a place, as the town was full of bars, all similar to each other. Therefore the cafè, which was a new formula, initially helped to sustain the shop.
Q: What kind of dynamics did you have there?
A: The typical day of Caffé Polar used to start at 10 in the morning. The first passing by were the university students hurrying for classes. Then someone working at the food market in Piazza Duomo would come while freezing to for a hot drink. Then from 12 pm, the students would come back to hang out after class. Then in the afternoon, some people would meet in the cafè before going to the cinema. We used to have some tourists as well, but just those who used to avoid the main streets, casually ending up in our alley.
After a while, we started to organise jam sessions and small concerts with those conservatory students who used to hang out there. We also started to screen short movies with the students of the cinema academy, present books by emerging writers and small exhibitions of visual artists. All in the shop. Although the space wasn't suited for that, we noticed that people were doing it for the sake of being there. So Polar soon became an important pole for the sub-culture of the town. A couple of musicians recorded their live performances there, as well as the Symphonic orchestra of the town.
The space was so packed with violins and cellos that there was no space for anything else.

Q: Does the shop have a main musical personality? or multiple ones?
A: We were "bad". We chose from the beginning to sell only underground records and books. No big publishing houses, nor mainstream music. The main musical genres that you find here are underground jazz and rock. Our choices were quite precise and niche, as we always wanted to give space to small publishing houses and labels. I use the past tense because, during the last few years, we have been forced to make compromises, so in a sense, now we are less "bad". Even though that attitude is not entirely gone.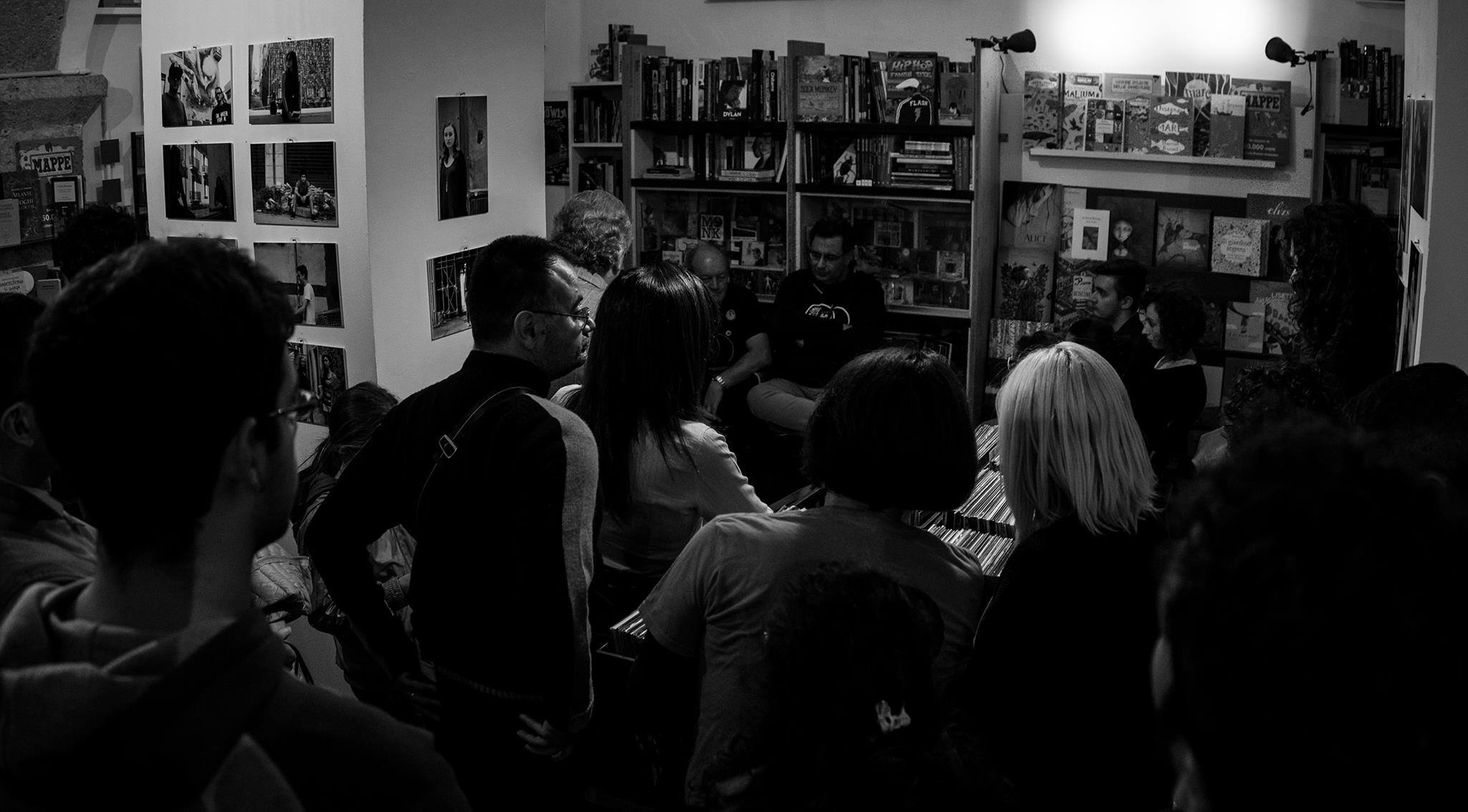 Q: Then in 2009 the earthquake. How was it to open again after 2009?
A: The earthquake hit us at our peak, both with the shop and the café. We had to re-invent ourselves, as the space wasn't there anymore. It hasn't been easy.
Luckily, there was a strong group of readers claiming Polar, and this gave us the motivation to open the shop as soon as possible, but we didn't open the café.
For now, we are not thinking of going back to the previous location. Not that we will not have the possibility to do that, it's just that we don't like what the city has become. In 2004, while many cities were starting to undergo the gentrification process, L'Aquila seemed strong enough to be able to stop that. But now it's different: the city centre is an open-air shopping mall: it's for tourists and buyers only, and the people who come across are not the same as before. In this scenario, we don't see a space for us. Back in 2010, we were hurrying to go back to the city centre in order to escape the shopping mall, but instead, they built a shopping mall around us. Also, the emigration of students outside of the city increased exponentially after the earthquake, causing a decrease in the demand for alternative materials. That's why we had to become less "bad" in our selection. We used to work with the niche, but now it's not economically sustainable. We remember seeing people feeling uncomfortable while asking us about mainstream books. Now we have to make more compromises.
This situation didn't stop us from organising events, anyway. Quite soon after the opening of Polarville in 2014, we started to host concerts and small events both inside and outside the shop, collaborating with other venues in town. We organised many things, just to name a few: Jeff Clark, who played in the courtyard behind Polarville, Chris Cacavas, Steve Shelley, The National (back in 2005), King Automatic. In the last two years, Covid restrictions inspired us to keep organising small gatherings with limited seats, promoted outside of the social networks. You would know about the next event only if you passed by the shop. For us, it's important to build an audience that trusts our choices, coming even without knowing who's playing. This means that people are really interested. We believe that such dynamics can only exist within the social relationships that come to life across the space of the shop.

Q: What are your projects for the future?
A: Cinema. We would like to organize a film festival as there's not a cinema yet in the city centre. We used to do that in the café. Around us, I only see fake modernity, and I believe instead that culture has to be participated within your body, in the spaces that you choose to cross.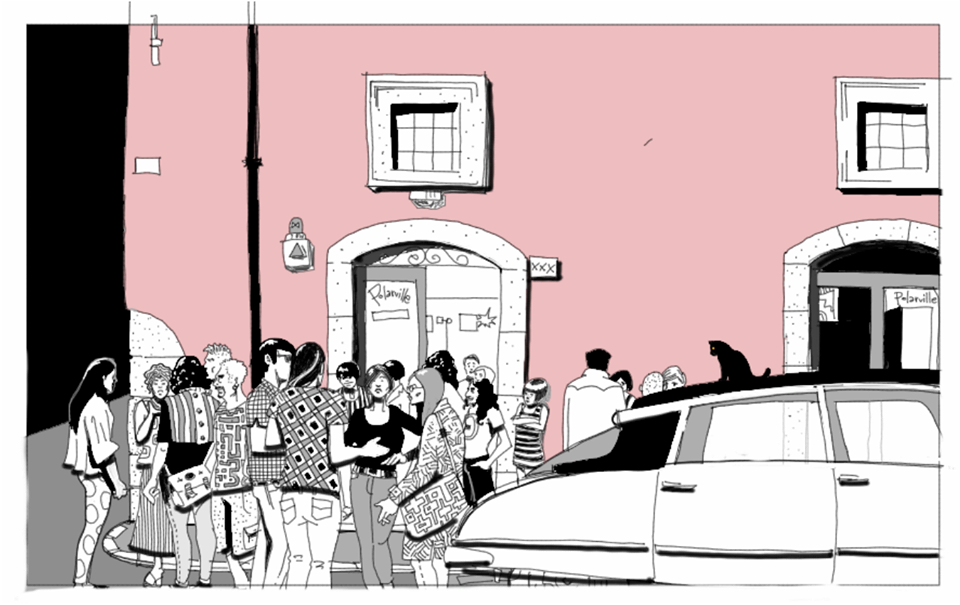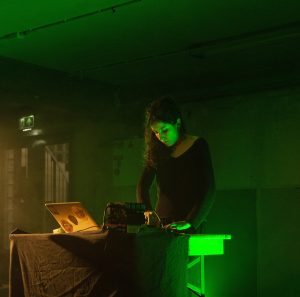 Giulia Rae (she/her) is an Italian composer, researcher, performer and sound designer currently based in Turin (IT). With a background in noiserock and punk, she obtained a Bachelor Degree in Electroacoustic Composition in 2018 at Conservatorio Giuseppe Verdi (Turin, IT), and a Research Master Degree at the Institute of Sonology (The Hague, NL) in 2021, where she currently is a Research Associate. With a keen interest in creative coding and sound design, semi-generative systems and live performance, she bases her artistic practice and research on immersive sound and the listening experience. Influenced by the theoretical discourse on human-machine interaction, embodiment, deep listening and perception, she develops her works in the field of algorithmic music, VR, multichannel and 3D audio. She uses coding as her main creative tool for sound design and composition, where the border between the two is blurred by a process-based approach.
In 2022 she worked as an artist in residency in the studio for 3D audio at CICM of Paris VIII and at iMAL studios in Brussels, working with the Kinetic Sound System.
Since 2016 she carries out a solo project where she explores the intersections between algorithmic music and club-oriented electronic music, performing in venues and independent festivals around Europe. Her releases are on Søvn Records, Light Item, Ovaal, Intersezioni, Solium Records, Guerrilla Bizarre.
In parallel, she works as a composer and sound designer for video, theatre, dance and multidisciplinary projects.