FÅGELLE: BERLIN
Local experimental scenes introduced by our network of femxle musicians
In the fall of 2016 I was forced to move to Berlin. Not like most people do an exchange year, where they want to go look for something beyond their university or country, but for me rather the only way to properly finish my education in Sound Art. My university in Gothenburg, Sweden, shut down my program in the middle of my bachelor studies. I was the only student so it shouldn't have surprised me.

So forced I was, to go to one of the most vibrant cities, in regards to experimental music and sound art, in the world. But growing up in a small village in the Swedish countryside I wondered whether a real metropol like Berlin would be more than I could handle. And since Gothenburg had left me feeling pretty invisible I wondered how I wouldn't get completely drowned out in a much bigger city.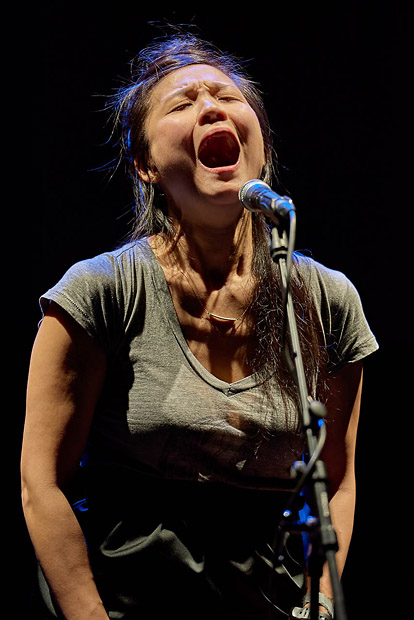 But moved I did, and after a couple of months I had claimed my very own version of Berlin and I was head over heels. My life was on the U-bahn in between shows, surviving off of snacks from the vending machines (can't recommend that) and meeting lots of strange, beautiful, interesting people. That winter I went to the festival Heroines of Sound for the first time at Hau2. I saw poet and soundscape builder Lucrecia Dalt, magnificent vocal improviser Audrey Chen and avant-turntablist JD Zazie and I was blown away by all of them and maybe most of all, the way in which these expressions were presented with such authority. And by that I mean that I was used to experimental music being confined to small, fringe venues with small audiences and a constant feeling of having to educate people about its mere existence. The certainty with which experimental music exists in Berlin is something I almost take for granted now but it was baffling to me then to see a big theater filled with people not just tolerating these expressions but celebrating and deep diving into them. Let's just say I felt like I'd found home.
Left: Lucrecia Dalt – Right: JD Zazie / Pics by Marco Microbi
Since then my local scene in Berlin has come to mean a variety of communities, people and expressions. It is the group of radical self organization Blatt 3000 who makes magazines and festivals and believes in non-hierarchical structures for both curating and music making. It is the class of Alberto de Campo at UDK, The Society for Nontrivial Pursuits who makes collective music through live coding and network concerts and people coming out of that environment like I.ruuu with her chaotic, operatic, post-post-genre fables and Jessica Ekomane's immersive experimentations with psychoacoustics, rhythmic structures, noise and melody. It's my swedish friend and fellow artist Marta Forsberg who's using light and drones to construct immersive environments and explore intimacy in music. It is the noise duo Slow Slow Loris I met in the Austrian village Gallneukirchen who are exploring text and physicality inside the noise genre and walking that fine edge between chaos and harmony. It is my third cousin Vida Voyage who's releasing floaty, drony, sound poems every full moon. It is Andreas Dzialocha who makes beautiful, noisy solo bass music that crackles, whispers and sings. It is Raw Chicks hosting great experimental electronic concerts with a focus on female identifying artists, where I got my first proper gig in Berlin and where I met Ksen. who's making intricate, minimalistic music where textures of electronic material meets field recordings. And many more in a sometimes loosely and sometimes highly connected web of activity.
To talk about only one scene would be to greatly diminish what the energy flow of the Berlin cultural life means to me and so many others. The lust and determination for exploration is something we share but the paths we decide on are different. The mycelium in which we exist provides us with the environment for growth through our interdependency. All of these people have taught me, through their work, to go deeper and further, to surpass myself and my own limitations. And when Heroines of Sound asked me in 2018 to perform their opening night at Hau2 it inevitably felt like a full circle.
Fågelle creates music where layers of noise meet pop melodies in an exploration of rhythms and the subject of power. Through pedals, synthesizers and samplers, she dives deep into sounds, experimenting until she finds what will come together with poetry to create a compelling song in the middle ground between sound art and pop. Her sound world consists of everything from field-recordings from Moscow's subway to roaring guitars and tormented synthesizers.
In collaboration with the producer Henryk Lipp (Blue for Two, Anna von Hausswolff, Union Carbide) the ideas are grown into sound worlds, pop songs, storm clouds. From the smallest text fragments to the rolling in of the biggest thunder. With lyrics in Swedish about our current times in micro and macro-perspective and about power and powerlessness. Fågelle's music has been described as "a soft punch in the face".