KIKIMORE: SLOVENIA
Local experimental scenes introduced by our network of femxle musicians
When Kikimore started creating music and instruments, they picked their names from Eastern Slavic mythology: the kikimora is a mythical creature, a female spirit that resides in houses and causes unusual noises during the night. The name captures their non-conventional approach to music-making in which they emphasize the collective creation and group learning based on the principles of DIY and DIWO – do-it-yourself and do-it-with-others. Improvisation within a broadly specified structure, various combinations of sounds, sound manipulation, and the resultant rhythm – these are the foundations on which Kikimore try to build their own noisy musical expression. The process of creation is based on experimentation and improvisation with the sounds of different musical instruments such as analog synthesizers, electronic instruments and contact microphones. With them Kikimore's sound art focuses on experimental, ambient, noise music and constructing new soundscapes each time anew.

Barbara Poček – a member of Kikimore – introduces here the Slovenian experimental scene and lets us sink into it with a soundtrack entirely made of her favourite femxle local musicians.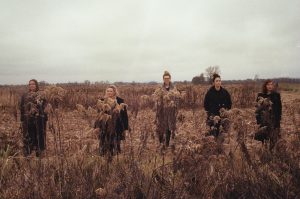 Kikimore is a collective of five female sound researchers walking the line between noise and ambient electronic improvisation. They are one of the representatives of the Ljubljana's thriving new media scene gathered around arts, science, technology and music. Kati Flowerfields, Staša Guček, Nina Orlić, Sara Pegam and Barbara Poček met in January 2016 on so-called Noise tea parties at Rampa Lab which started within the Initiative Č I P k e – an Initiative for researching the conditions of women who are active in the context of science, technology and media art. They quickly acknowledged their shared enthusiasm for musical improvisation and soldering analogue instruments.