MAG: GOTHENBURG
Local experimental scenes introduced by our network of femxle musicians
To write about Gothenburg's music scene has proved much harder than I thought.
Since there is no live scene at the moment because of the pandemic, I started to write something about how it used to be but it soon became a very depressing story about all the clubs that had to shut down, even before the pandemic began.
Gothenburg is quite a small town but it has had a long tradition of an underground scene since the end of the 1970s. To explain a bit for people who are not living here, Sweden has always had a very strict and complicated law on regulating alcohol sales; but in Gothenburg the police most of the time were looking the other way when it came to selling alcohol at a smaller concert or at a cultural event. This boosted the organisation of all kinds of parties that didn't have commercial interest and consequently the cultural scene flourished. It was the biggest reason why I moved here in the first place. But in the last few years we have seen a more rigid and changed attitude to cultural events and alternative clubs and venues that are not able to follow the rules by the book. So they have almost all been shut down by the police and authorities in different ways.
When TRUCKSTOP ALASKA, a venue based on an extensive community finally gave up I kind of lost my hope for this city and then the coronavirus came.
During spring and summer last year, most of the live shows that were supposed to happen in Gothenburg were canceled like in most countries. However, when the situation got better after the summer, some smaller venues opened up for live shows, with a restriction of a maximum of 50 people in the venue. A little inspired by that, I managed to go to some shows before everything got worse again.
When I now look back I actually experienced some really amazing live shows even if the situation was very far from what I was used to. So I decided to write about two of these shows.

I will start with the first live show I went to, since the beginning of the pandemic, at the end of September. Things had slowly been opening up again after the first coronavirus wave. Maybe that is why I had such strong feelings about the evening. The event was organized by KOLONI which always brings interesting and often unknown (to me) artists to Gothenburg. Koloni is a club that pops up in different places, sometimes it can be in underground hidden places and sometimes in more regular venues or even cultural institutions.

This time it was at the rather small venue OCEANEN based in Majorna, that normally would have an audience of 120. On the bill there was LOOPSEL, a local act, and a Danish band, KPTTM, that had managed to cross the Swedish-Danish border that had just been opened. Many people wanted to book tickets so the evening was split into two sets where the artists made two concerts after each other for the two slots. I went to the second one.

There was an excited, sparkling feeling in the air after having been unable to go to a concert for so long. I knew almost everyone in the audience. But it was very frustrating that I couldn't talk to people as I normally would do. The tables were spread out and you were only allowed to sit three persons at one. You had to sit down all the time and you were not allowed to mingle around, even when going to buy a beer at the counter. The staff made sure that you didn't stop on the way to your table or talked to someone on your way back.

LOOPSEL
First act on stage was Loopsel. Loopsel is Elin Engströms solo project. She is also known for playing drums in the band Skiftande Enheter and playing and singing in the duo Monokultur, but I must say that Loopsel is my favorite of her projects. I had been listening a lot to her newest album The Spiral that I really love. The music for this album was originally composed for an exhibition as a soundscape to a multimedia spatial installation in Copenhagen.
It was first released on tape by Amatör Kassetter in September 2019 and finally released on vinyl by Förlag för Fri Musik in spring 2020.
Loopsel music is dark and cinematic with monotonous pop vocals, guitar and a sporadic organ mixed with soundscapes and more noisy sound elements. It works really well to listen to at home. But I wasn't sure that this would be something that would work as well in a live situation. I also often find myself getting disappointed if I really love a record and then see the band live. But even more frequently, when you really love a band live show, the album never really lives up to that. Maybe it's just the failure of my high expectations.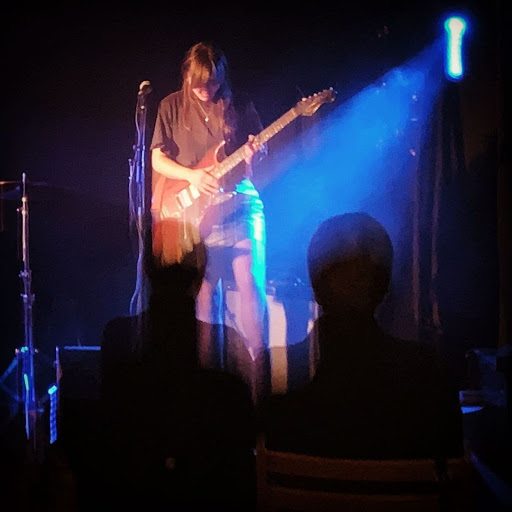 That night was different though. Loopsel was really delivering magic to the room. Alone on stage, with guitar and microphone and the floor filled with loop pedals and guitar effects. Everything was performed live with an extremely intense and vibrant focus that I almost felt the air was shivering around me.
The monotonous and dark soundscape with the beautiful occasional melodies seduced me and brought me into another world. I could recognize many songs from the album but there was also some new material I think. I was very inspired and impressed by how she composed the whole set. Since I work with live looping myself I know the difficulties. Loopsel manages to make interesting and dynamic music far from just looping and building layers on top of each other as many artists do. Even if she is sometimes monotonous, her different songs grow into each other to one long set. It was rich with variations as a sea that sometimes is still and sometimes is stormy and it never got boring or felt too long.
Listen to and buy her albums: LOOPSEL and MONOKULTUR
Loopsel totally knocked me down in the first round and the next band didn't really have a chance. I almost felt dizzy when KPTTM was starting after a short break. The Danish duo were also delivering but this unfortunately didn't work so well in a situation where the audience had to sit. The music was a mix of some kind of hypnotic dance music and atonal minimalism with drums and guitar. Usually the open minded audience of Koloni would dance and get crazy to this music but that night you had to be happy with just nodding heads and stamping feet. It sounded really great though even if I would have preferred to listen to them in another setting.
Anyway I left the evening a bit confused about not being able to talk to my friends as usual, but still very happy that I had experienced these two great concerts in these difficult times.

AUDIOKOPTER
Another concert that happened around the same time really blew my mind: AUDIOKOPTER playing from a truck outside an opening for an art exhibition. It was a dark and cold evening at the end of October and the concert was part of this annual special event called Kulturnatta. Kulturnatta means the Culture night. It is a very special night where cultural spaces open up and show what they are doing in different ways. It's a mix of art, music, theatre, all over the town. Most of the things are for free.
Usually this can be a crazy night with too many things going on and you find yourself running around all over the town to try to see as many interesting things as possible or you are involved in producing something yourself.
This Kulturnatta was different of course, with less things going on, and I actually enjoyed it more. I decided to take the trip by tram to the old military base called Kviberg – nowadays repurposed to different activities. It is based in a suburb area of Gothenburg and it's quite a big area with big empty houses. I didn't really know which building it was so I had to walk around in the dark for a while before I found it and could meet up with my friends. The exhibition itself was unnoteworthy but Audiokopter WOW!
It was definitely worth sitting and freezing outside in the dark for.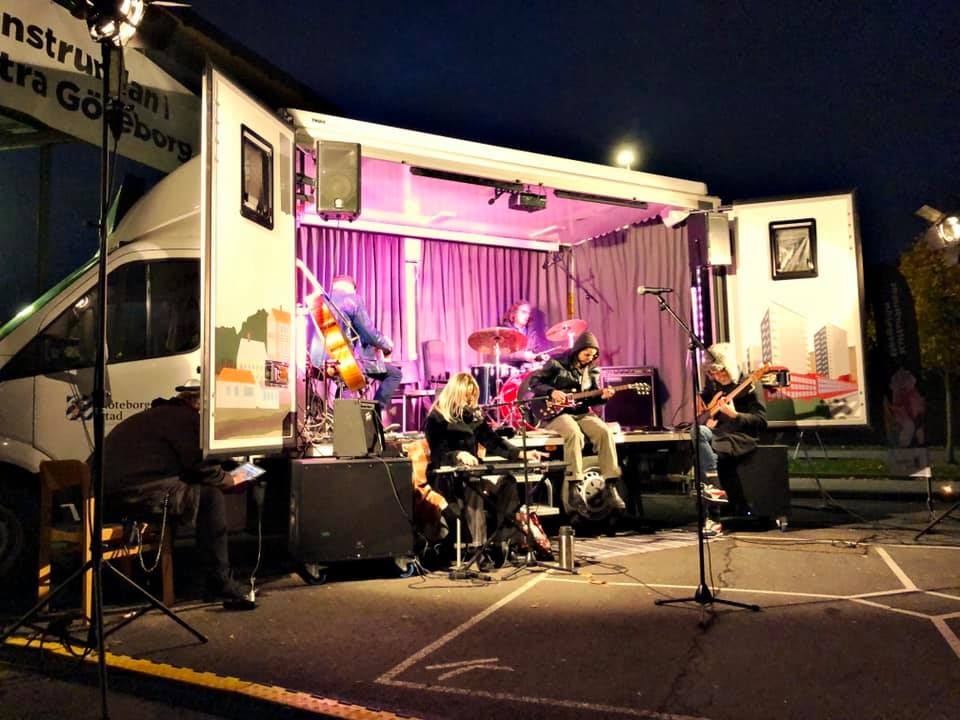 I don't think Audiokopter is an existing band, it's more like a gathering of various, popular as well as lesser known artists from Gothenburg. Audiokopter is a sound system made by Sebastian Öberg, known from Älgarnas trädgård and Fläskkvarteten.
This sound system is really something special and is made by speakers taken from a football stadium in England. They are 2 gigantic megaphone-like speakers that are rotating at the same time the sounds come out. I guess it works similarly to a Leslie speaker but it is a lot bigger therefore the sounds that come out are really powerful. It's almost as if sky and earth were simultaneously bursting and speaking to you with a vibrating and trembling voice.
This time though the voice came from: Sebastian Öberg on cello and modified hurleygurley, Amanda Werne (Slowgold) on guitar and voice. Hanna Chawki (Surreal Lovers) voice and keyboard, Timo Lundgren (Uran Gbg and Exorsist) on bass and Henrik Wartel on drums.
They managed to transform the sound from heaven and hell in a total improvised session that smelled kraut, drone, minimalism and psychedelia topped with angel choir and beatnik poetry.
They played for almost 45 min and could probably have gone on much longer, but unfortunately the sound suddenly disappeared except for the synthesizer from one of the amps. The musicians were confused and kept on playing. I first got the impression that something was broken in the sound system but then I realized that the organizers had a tight schedule to follow and wanted to go on with the program with something else. Sad ending. We left the place to get a good beer at Spike Brewery.
Unfortunately there is very little to find on the internet about Audiokopter but the whole live show from the evening can be seen here (it starts at 42.37).

In addition, something that seems historical during coronavirus times happened: the big Arena in Partille opened to smaller independent acts. Unfortunately, I wasn't able to go when Sara Ohm and Fågelle played there. Two interesting but very different artists.
Since December 2020 there have been no concerts happening in Gothenburg with live audiences since the restrictions now is only eight people at a venue.
I think that Sara Ohm's pure and authentic noise music that comes directly out of frustration would describe the situation very well.
MAG, aka Magdalena Ågren, is based in Gothenburg, Sweden. She uses trombone, megaphone, voice, homemade electronics, loops, and drum machine all at once to build her music from scratch. From the smallest simple element, it grows into a gigantic dystopian lo-fi orchestra that blows you away with noise. Her music can be described as a trombone/megaphone attack directly from the heart.
Mag is also playing in the postpunk band SORK and the duo Trapped in a loop.