MAIA KOENIG: ARGENTINA, THE NOISY VEINS OF SOUTH AMERICA
Local experimental scenes introduced by our network of fem人Le musicians
MAIA KOENIG
ARGENTINA, THE NOISY VEINS OF SOUTH AMERICA
I have always thought that noise is linked to the revolution. I come from a punk cradle where anarchist bases forge self-organization so when I think of zines and a few chords, I immediately picture precariousness as a political form of artistic survival. Recycling obsolete technology and having the power to make noise with what you have (within everyone's reach), be it a metal plate or a moog, opens the spectrum of experimentation, thus the universe of academic, mainstream or entertainment music is ravaged by unpredictability.
Argentina is one of Latin America's strongest bases in regard to experimental music. There was a strong economic-political crisis in 2001; then a fire occurred in Buenos Aires that caused almost 200 deaths in a national rock concert at the Cromagnon nightclub. After this, there was a mutation in all music scenes as many bars and clubs that did not comply with the new safety regulations had to close, leaving bands and musicians without venues to play. Here was where creativity loomed and where we began to reinvent ourselves, hence the booming of underground venues, houses, kitchens, basements, terraces, libraries, etc. (Una.casa, Mi casa, Pronoise, Casa sic, Casa trash, El umbral experimental, F.L.A., Plasma, Club del arte, La mansión levich, Centro cultural raíces, Zaguán, Devoto, Teatro tes and thousands more). Then neighbors complained about "annoying noises", which caused a shortage of conventional drums and large sound systems, an increase of deep listening and the day-to-day merging with each set.
We didn't have much money so it was a good time to recycle toys, radios, retro games and start welding our own synthesizers, to share underground gigs and to become sort of nerds, to experiment without much expectations, to encourage ourselves to provoke: saturation and textures, screams and hot extraterrestrial language, we were always the same bands. Aureola eléctrica, Coso, Cine shampoo, Lzaz, Fiend, Dronevil, Termotanque, Rrayen, Bosques, Subh, Salieh, Grinenco, Alma laprida, and many more.
Digital communication has exponentially grown over the years and alternative spaces have started to be established; we are taken seriously there… fighting to be paid for shows with money rather than beer.
An inclusive sound network has been expanding throughout Latin America thanks to the Feminoise collective published by the label SISTERS TRIANGLA RECORDS. They have carried out an archival work through open calls to register, promote and circulate what was not seen, what was hidden, those who did not dare to show themselves, those who were censored, the noisy souls that were not given space in concerts; thus more than hundred experimental musicians have come to light with unique projects, growing potential roots for what is today an increased visibility of women in South American music.
The Quota Law was incorporated in Argentina and it requires 30% of women in music events; we have been asking that it gets complied with, because there are many who still do not respect it. Some say that we do not make good music but that is double yardstick for a consumer society that for thousands of years has been coming to place us in the kitchen; in that kitchen where utensils have become pot-banging protests, where the mundane is the only creative escape for a trampled precariousness which is the standard mark of an increasingly noisy, vindictive silence, as is the kitchen of the third world.
The essence of movement is an action with a "because": where do we move? Have we got anything to say? Does native blood no longer want to be colonized? Is money no longer an obstacle to music? Is art the way to change the world? a consumer art? a no-art? a protest art? a need that absolves everything bad without being unconscious, a deep transformation, a programmed obsolescence of the human brain that mutates into an improvised "here and now", of some strings on sheet metal, red-hot potentiometers, shouting choruses in the subways, branches of a wind that crosses us in the open veins of Latin America.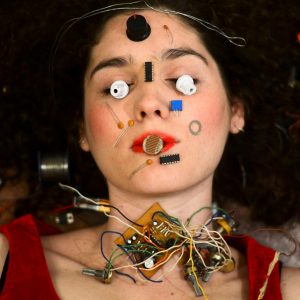 Maia Koenig is a Patagonian experimental multiartivist.
She builds her own instruments and interacts with sounds of all kinds. She is involved with poetry, theater and sound activity linked to retro-games and recycling of toys. She teaches workshops on homemade electronic synthesizers and gameboy programming.
She is the creator of the Sisters Triangla records label. Founder of the Feminoise Latin America movement. Winner of the "Culture is Feminine" award in the musical section (Spain 2020)