NETTNETT TAKE-OVER * WHIRLYNN: FLORIDA, US 
NETTNETT RADIO TAKEOVER
A REINTERPRETATION OF FLORILEGIO BY NNR GUERRILLA RADIO MAKERS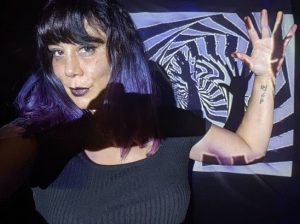 Whirlynn is the musical outlet for Vanessa Garcia-Cuevas, a Floridian multimedia artist of Panamanian and Puerto Rican descent.
Whirlynn has been an active participant in the Central Florida and South Florida undergrounds for many years, playing DIY (and larger) shows, doing projections at art events, and screening films.
"Yakakeitiwa" (out on Pop Nihil) is a stunning departure from her more recent improvisational and soundscape-oriented pieces, instead veering into gorgeous dreampop and synth-pop territory – often flavored with Latin music influences.
Whirlynn is the curator of nettnett radio program FLORIDA SHOWERS – a collection of recorded Florida artists, dj sets, interviews and new releases from Florida's finest experimental artists.

As a special Guyub edition about Florida (US), join us and listen to episode 30 featuring interviews with local artists and a full Floridian tracklist.