SILVIA KONSTANCE: BARCELONA, SURVIVAL IS PART OF THE UTOPIA
Local experimental scenes introduced by our network of fem人le musicians
SILVIA KONSTANCE
BARCELONA, SURVIVAL IS PART OF THE UTOPIA

I'm Silvia Konstance, half of the duo Dame Area and part of the collective and label Màgia Roja and I'd like to give here a quick look into Barcelona's alternative music scene.
I grew up in Italy and first arrived in Barcelona at the end of 2014, a period in which, according to the people around me at the time, the experimental underground scene was pretty still. I was lucky enough to know the people behind the Màgia Roja label and to start working with them right when they decided to open a space for live shows, Dj sessions and interesting art, which soon became one of the meeting spots for the artistic community. The venue, also called Màgia Roja as the label, became one of the central spots in Barcelona's alternative scene in the years to come, when there was an explosion of new music projects, new collectives formed, new venues and places for arts and an ever growing public interested in experimentations.
In this article I won't try to give a comprehensive look on the scene, considering that there are countless micro-scenes inside the city and that today I am still discovering interesting projects and labels I've never heard about before. I'll focus instead on the music and artists that have shaped my music tastes and have meant something for me in these years.

→ Little premise: when I arrived in Barcelona I didn't have much of a music background, it's here I've discovered almost all the music I like today ←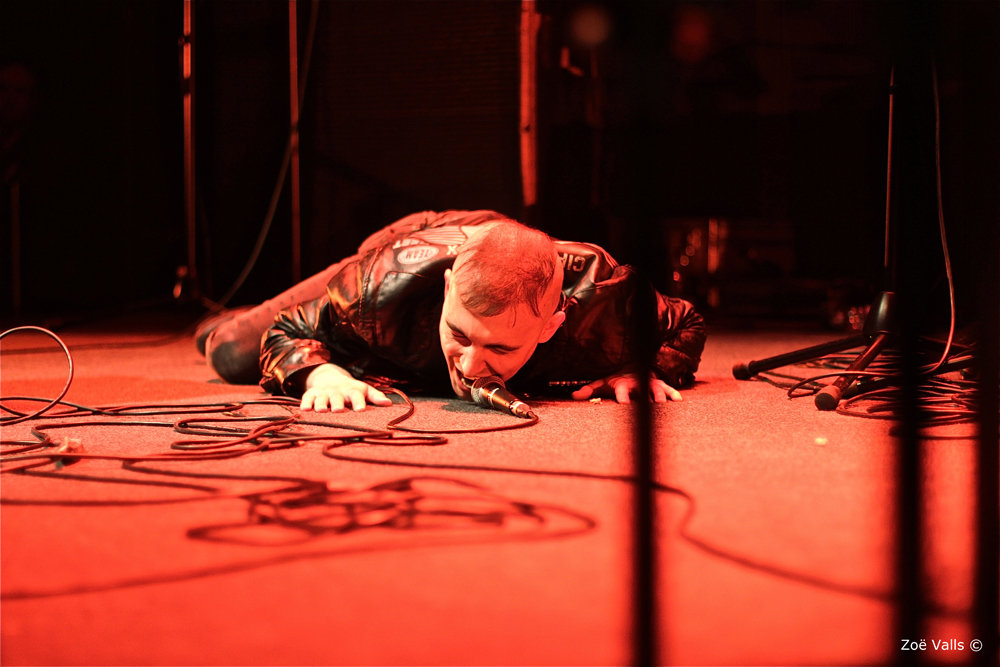 I very well remember the first show of "weird music" (that is how I would think of it at the time) that I liked: it was on my 19th birthday in 2014 and it was a performance of Coàgul, an industrial electronic project with lyrics in Catalan about esoterism, rituals and ancient Mediterranean symbolism.
He was sharing the bill with Ordre Etern, a very dark, post-industrial Swans-like trio, one of the heaviest bands I've probably seen live (maybe together with Akauzazte). Viktor, founder of Ordre Etern and also behind the moniker of Futuro de Hierro (crazy rhythmic noise electronics, really powerful live), joined me a few years later in our band Dame Area.
One of the other Barcelona-based artists that really got me since that first year was surely Zozobra, a Spanish Coil/Nurse With Wound so to speak with an incredible lyrical talent (both improvising and in written texts) and with a very personal feeling and inventive – half of his first album was made by samples of his voice (as rhythms, synths, noises,…).
Alongside these 3 projects there have been many others in Barcelona (and many of these are still active nowadays) that share the industrial aesthetics, strong structures and very original lyrics, each with their own character and sound. Just to mention a few names worth checking out: Jaco, Caramuerto, España, Dead Normal, Noir Noir, +++, C-Utter, Juché,…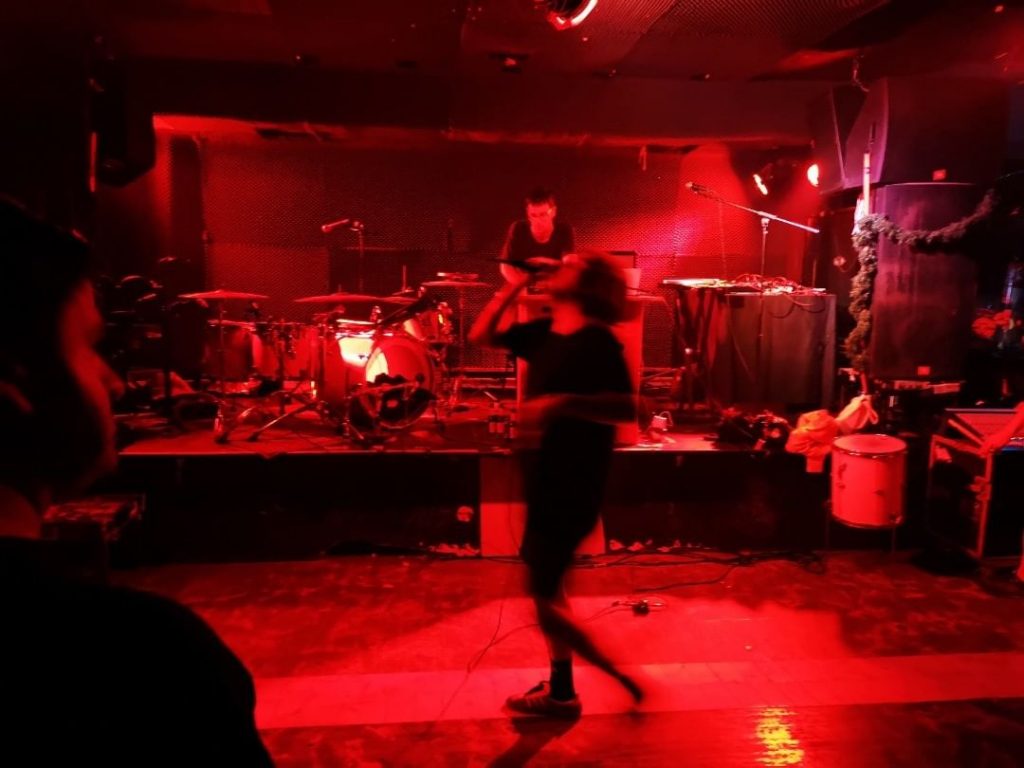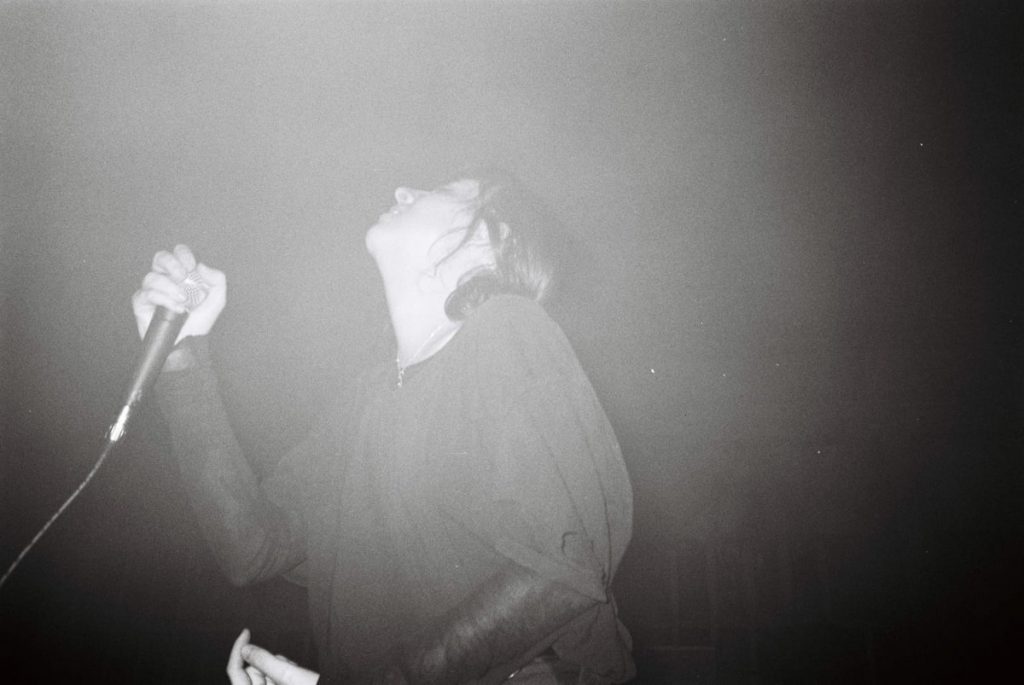 During the past years I've seen more than 400 concerts in our venue, getting to know many local projects as well as touring bands. Among the local bands, those that made me dance more wildly are for sure Ca de Bestiar, a great synth-punk duo with very controversial and provocative lyrics whose songs have become local hymns in the club night at Màgia Roja; ECM, the best EBM Spanish band I know (one of the few times we had pogo at our place); Geistform, more classic rhythmic noise techno project but really powerful and SMForma, EBM/techno with female vocals sung in Lithuan and English.
As I guess it usually happens with big cities, many artists based in Barcelona come from different parts of Spain, and this is even more true when I think about female artists.
A few weeks ago I was discussing about this with a friend of mine, Laura (original member of Rakta, now playing as Guerra Fría and Mentira among others) and we were trying to think of any female artist based in Barcelona and originally born and raised in the city: it was not an easy task as most of us women in this scene come from different places around Spain and even more commonly from other countries.
If I was to recommend some, I would surely start with both projects I've just mentioned of Brazil-born Barcelona-based Laura del Vecchio. Mentira (Laura and Pedro Keppler) is a synth-punk duo that creates catchy tunes on top of lo-fi minimalist bases. Their set consists of cheap keyboards, a bass and occasional drums and their debut LP was out on London based label Harbinger Sound.
Laura also plays under her solo moniker Guerra Fría where she mixes rougher industrial sounds with a dub feeling and powerful lyrics. Completely different vibe from Mentira and still excellent.
Top left: Fata morgana by Marta Szewczyk | Bottom left: Ciudad Lineal | Right: Anatomia-Humana-Desmontable
Inside the synth-wave/coldwave scene, I would mention Fatamorgana (Patrycja and Louis, also member of post-punk band Belgrado), Ciudad Lineal (sadly they're not active anymore, but their LP "El Nuevo Hombre" is a masterpiece to my ears), Anatomia Humana Desmontable (mixing darkwave with weird pop), or SDH (Andrea and Sergi, also members of Wind Atlas and founders of Conjunto Vacio label).
Inside a more experimental scene, one of the key figures is Shak Benavides, founder of the legendary Wah Wah Records record shop and label, Dj under the moniker Dj Shak and making music as Lucius Works Here and Johannes de Silentio. Since 2018 he also runs TeslaFM, an online radio for people who are interested in non-commercial music, experimentation and countercultural information.
Working with sounds all in her own way there's Daphne X, a Greek sound artist based between Barcelona and Linz, also founder of the artistic platform Cachichi. In the past few years she has been recording and publishing a lot of material that goes from field-recordings manipulation to glitchy sound collages passing through musique concrete and abstract experimentations. In all her works I find a very personal and delicate touch and her music universe sounds impressive and unexpected to my ears.
Much rougher and darker is Amas, a duo founded by Ivana Ray Singh and Maria Gata Santa, key figures of Barcelona's underground experimental scene and Paris' electronic scene, respectively (Ivana has been one of the founders of Màgia Roja label and venue). "Beat-driven, at times bare-boned and lysergic, others pounding and hypnotic, guided by a voice that invokes and banishes at will", their live performances are rituals made music.
From left: Amas Live by Bugatell fotografia | Daphne X | Lucius works here
Of course things have changed since 2020; the Covid pandemic came and the consequences on the artistic life of the city have been devastating: various venues and clubs closed, most of the others have been struggling to survive, many people moved away, bands disbanded and night life is still a memory from the past, but I'm confident that as it happens with all crises this too will pass and from the ashes new projects, bands and powerful music will emerge once again.
That said, I hope I have awakened at least a bit your curiosity: there are great artists in Barcelona whose music doesn't often leave the country and doesn't reach the public I think they deserve, so if thanks to this article some of you will discover some artists you'll dig, I'll consider myself more than satisfied.
Lastly, here is a mixtape I made with some of my favourite tunes among the artists I mentioned.
Below it, a list of collectives and places that are still active today – in case you ever come to Barcelona and want to dig personally into what is boiling in the city.
TRACKLIST
Lucius Works Here – Escrito matemático del disparate (para Lewis Carroll)
Los Sara Fontan – Kekuasaan Godaan
Daphne X – Halo Dragon
Jaco – Xenogénesis
Coàgul – La mà de la benedecció
Anatomia Humana Desmontable – Quiero arder
Zozobra – Tu cuerpo
Ciudad Lineal – Industria
Ca de Bestiar – Chicos Salvajes
Mentira – Guerra
Fatamorgana – El Uróboro
Ordre Etern – Natura
Amas – Scarlet Woman I ain't
Eli Ningú – Ship of Fools
Espacio Profundo & Tenebra – ARA
Yvgvlar – Mi muerte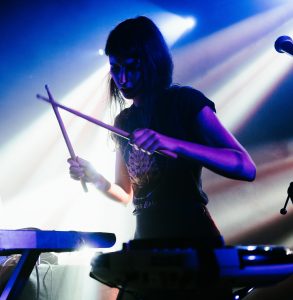 Born in Italy, Silvia Konstance has been involved in music since moving to Barcelona in 2014, first integrating herself in the label/venue Magia Roja and then founding her duo Dame Area where she sings, plays keyboards, electronics and percussion. With Dame Area she has toured Europe extensively since 2018 and has released music in labels such Mannequin Records, Kess Kill, BFE Records and Màgia Roja.