OPEN CALL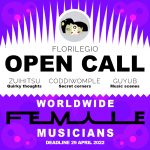 We're looking for worldwide fem人le musicians with stories to tell and ideas to share.

Florilegio is a network of experimental women artists and musicians willing to share points of view, experiences, tastes and thoughts. So far the musicians featured on Florilegio have been selected by our team of curators, but we want to hear from you whom we haven't been able to reach yet.
That's why we're launching an open call to contribute to three different sections of our blog:
CODDIWOMPLE: Our section on tales about secret corners. Tell us about a place that plays or played an important role for you and your music.

GUYUB: Our section on tales about music scenes. Tell us about the music scene you're part of.

ZUIHITSU: Our selection of essays, personal stories and curiosities. Tell us about odd and interesting things related to music.

DEADLINE
April 29th 2022
Selected people will be notified by May 15th 2022

APPLICATION
Send us a link to your music and an idea for a feature to [email protected]

PLEASE NOTE
– You don't need to write your contribution right away but to just pitch your idea to us. The selected musicians will be asked to explore the topic and write the article within a month's deadline. The articles will be featured on our website and all our social media.
– We are not able to pay the contributors; the main aim of the blog is to feature and give visibility to the underground scene in order to increase awareness, address under-representation and promote connectedness
– For any further info please hit us at [email protected]