AMBER MEULENIJZER: APERO
ZUIHITSU
QUIRKY THOUGHTS COLLECTION
Essays, personal stories and curiosities from our guest fem人le contributors
An improvisation on organ – A homevideo of a slug trying to tackle and crack a nut – A paired text
see the night moving slowly towards us its rythm pulsing out the last light warm movements autumn air voicing tonight's whispers those who listen hear it moving on the counter of our own heartbeat trying to tell us to take turns right wrong wrong right didn't exactly ask for that the world is whoosh woosh wooshing by the time it reaches you a sweet smell propagating through the greasy air telling you where to aim for your body is heavy from all yesterday's losses and tomorrow is longing for more ever since where to go when all is earth like that undeniable hunger keeps you moving emptiness fills your stomach with a void so vast you could swim for days trying to reach the other end but you won't here it is the mountain of desire and downfall before us a volume of orange vastness how did Sisyphos decide where to touch it first how to interact with its shape find its armpits tackle its weak spots tickle them again taste its fear face its endlessness first
The track APERO can be found on the 2023 Bruismelk LP, which was just released on the Antwerp based label Ultra Eczema. It contains music by Tony Knollt, Jeugdbrand, Suzan Peeters, Sven-Ãke Johansson, Heleen Van Haegenborgh & Stéphane Schraenen, who were all involved in this year's Bruismelk Festival that took place at De Warande in Turnhout, Belgium.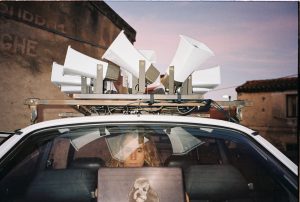 Portrait (c) Lukas De Clerck
Amber Meulenijzer (°1994) lives and works in Brussels (BE). With a background in sound and visual arts (RITCS Radio, 2016 | KASK Installation Art 2019) she tries to research the tension between these fields. Combining banale tristesse with everyday wonder, intuition and a general curiosity for the limits and flexibility of different materials, she creates work with theatrical, cinematograhic and poetic elements. The role of silence and the spectator are investigated, playing with presence / non-presence. Where do the eye and the ear meet? Where does the sound meet the material? Who speaks? What does the the body need in order to listen? Since a couple of years she is playing a lot of organ, using it as a textural element for her soundscapes and work.