LAILA SAKINI: AUDIENCE INTRIGUE AND THE PRACTICE OF PATIENCE
ZUIHITSU
QUIRKY THOUGHTS COLLECTION
Essays, personal stories and curiosities from our guest fem人le contributors
LAILA SAKINI: AUDIENCE INTRIGUE AND THE PRACTICE OF PATIENCE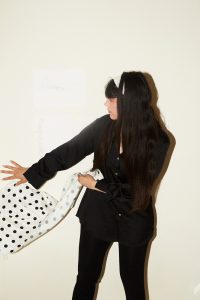 Multi-instrumentalist, composer, vocalist, producer and performer Laila Sakini is London based, Melbourne born.
Her major works include Like A Gun (EP), Vivienne (LP), Strada (EP), Into The Traffic, Under The Moonlight (LP), Princess Diana of Wales (LP), Paloma (LP), Cupo (with Valentina Magaletti) and her 2017 collaboration with poet Lucy Van, Figures (LP).
Working with piano, voice, guitar, found sound and silence Laila creates dynamic and textured environments that provide the listener with space to develop their own meanings and responses. Performing live she draws out delicate parts from her discography inviting audiences into an intimate arena where musical fragments are exhibited with improvised, real-time emotion
Laila has performed worldwide at: Cafe Oto, Galeria Zé dos Bois, Berlin Atonal, Listen! festival, The White Hotel, De Nor Antwerp, Meakusma x Arkaoda, Kings Place, The National Concert Hall Ireland, The London Handel Festival, Wunkderkammer Festival, Ponto d'Orvalho among many others art spaces, festivals and venues.