SUSANA LÓPEZ: THE POLITICS OF NOISE
ZUIHITSU
QUIRKY THOUGHTS COLLECTION
Essays, personal stories and curiosities from our guest fem人le contributors
SUSANA LÓPEZ: THE POLITICS OF NOISE
The control of noise and the institutionalisation of silence are conditions of power. Thus, we will open the doors of the auditoriums to bring in the noise from the street, we will top off the music, we will curse, we will scrutinise codes and networks.
Noise, electronic, experimental, industrial, … Subversive music has always existed in contrast to religions and official powers, and has regrouped the marginalised and visionaries.

Following my Master's Thesis "The politics of noise. Noise as a definitive weapon", I have created a radio space where I analyse the relationship between sound experimentation and ideological militancy.
Here is the first episode (in Spanish – English text below):
WORDS:

Listening to music is listening to all noise, understanding that its appropriation and control is a reflection of power, that it is essentially political… Theorists of totalitarianism have explained that it is necessary to ban subversive noise because it emphasizes the demands of cultural autonomy, the support of differences and marginality: a concern in maintaining tonalism, the primacy of melody, the distrust in new languages, codes and instruments is common to all regimes of this nature.

At the beginning of the 19th century, aesthetics was used as a tool of political control: managing popular music to impose social rules.
Through very modest salaries, a considerable number of musicians would be hired, equipped with always well-tuned instruments and who would only perform good music. Those singers gifted with manly and virile voices, would make the people listen to nothing but patriotic anthems and songs whose lyrics, sternly chaste, would celebrate the noble virtues and generous actions for which the people have a natural feeling. Instead of singing the inebriation of the wine and the voluptuousness of brute passions, people would hear praise for the love of labour, sobriety, economy, charity and for the love of humanity.

The first avant-garde movement that incorporated the technological presence into its imagery was Futurism. In February 1909 Filippo Tommaso Marinetti, in the fundamental manifesto of Futurism, demanded a change in the sensitivity of Italian artists. He attacked museums – "tombs of art" – and institutions, the remains of romanticism and neoclassicism. He glorified war and youth; he demanded speed and machines, violence and energy. He opted for populist politics and a culture proper to a mechanised society.

Attali Jacques, NOISE: The Political Economy of Music (1977)
Javier Blanquéz and Omar Morera, LOOPS: Una historia de la música electrónica (2002)

TRACKLIST:

Group A – Labyrinth
Iannis Xenakis – Persepolis
Cut Hands – Rain Washes Away Every Thing
Tito Diaz – No title
Carl Michael von Hausswolf – Still Through The Door
MAZK (Masami Akita & Zbigniew Karkowski) – Untitled mix
Gen Ken Montgomery – Karkowski Live
Ilios – La Farja Nubo Kiu Flugas En La Krepusko
Damion Romero – 170358
Kim Cascone – VortexShedding
Antez – Vacuum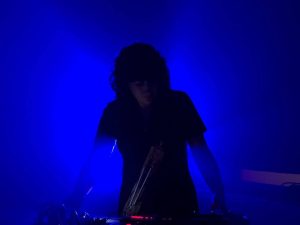 Susana López aka Susan Drone is an experimental composer and visual artist who works with sound and light and explores how these intangible materials can act as catalysts focusing our consciousness and altering our perception.
Since 2009, she has composed experimental, electronic, dark ambient, drone and post-minimalist music utilizing field recordings, electronics and layers of vocal harmonics and creating dense clouds of hypnotic sound.